54.103
MEMBERS
15.695
TOPICS
62.282
POSTS
562
FLASH GAMES
7.740
TUTORIALS
Help Needed With Div Tag Visibility:Hidden
0
Hi there,
I have a shopping cart website that i have almost completed apart from the search box function which I am told by the software authors is not working because somehow I have coded up one of my div tags (e_page) to show as hidden.
Now I am not an expert on html and only self taught. I have tried many different things but I cannot get the generated source code to show the "e_page" div tag as visible at the following address:
http://client.erolhosting.co.uk/bohemian/
Can anyone advise how I can do this?
Many thanks
Reputation: 0
Posts: 1
Joined: Sat May 29, 2010 9:57 pm
Highscores: 0
Arcade winning challenges: 0
Help Needed With Div Tag Visibility:Hidden - Sponsored results
Sponsored results
---
0
seems to work for me...
here is just a quick screen shot of the errors/warnings that firefox returns... just in case it helps you.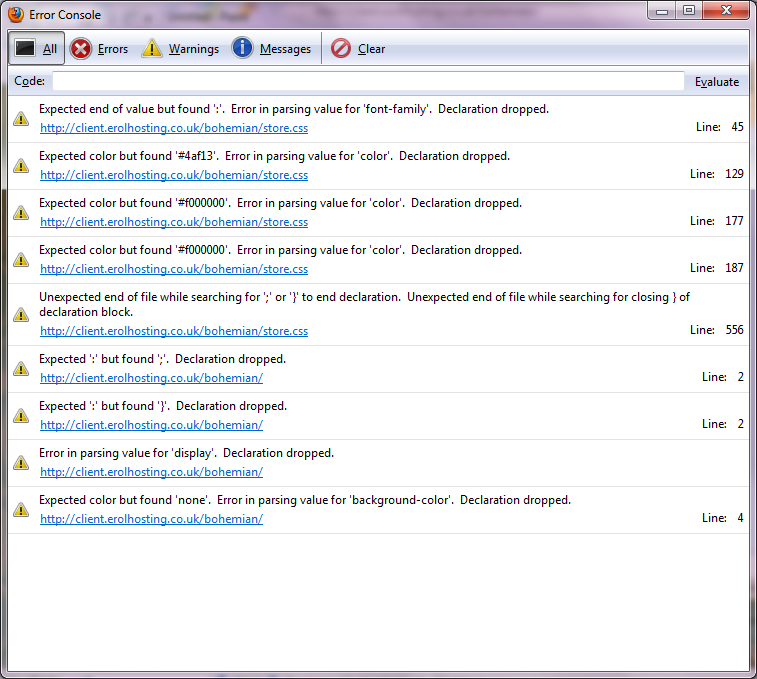 Reputation: 0
Posts: 169
Joined: Sun May 02, 2010 2:38 am
Highscores: 0
Arcade winning challenges: 0